I originally started blogging nearly a fortnight ago but filled with aristic whimsy, I decided to pack up and move homes to this, my latest location where I can assure you that for the forseeable future I will be curled up snug as a bug in a rug! So, grab a blanket and a hot cup of tea because I just finished reading a story that I can't wait to tell you about!
My Beagle all Curled up and Cosy; Ready for his Bedtime Story!
For the past two weeks I have been completely enwrapped by D.H. Lawrence's
Lady Chatterley's Lover.
It was originally published in 1928 but was immediatley banned because it was deemed too provocative, and wasn't publicly released in full until the 1960's. But, living in a day and age where the many televised shows, go above and beyond obscene, I can honestly say that this novel is modest by today's standards. If you're not familiar with the plot, (don't worry there won't be any spoilers, I can't think of anything worse than spoiling the ending of a story) the story follows the life of young Constance (Lady Chatterley) who gets married to Clifford Chatterley. Clifford goes off to war and returns diabled form the waist down. Due to his disability, and cold nature Clifford retreats into his mind, which causes Connie great distress as Clifford becomes emotionally vampiric, sucking a figurative life force from Connie's body. Seeking the need to feel alive again, Connie begins an affair with Mellors, Lord Chatterley's game keeper, beginning the main romance of the novel.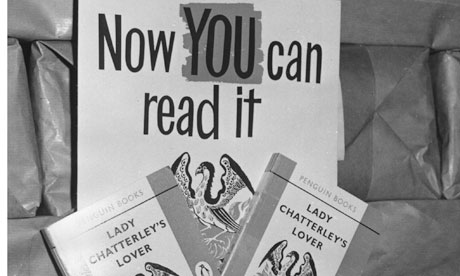 The First Full Copies of Lady Chatterley's Lover published in 1960 by Penguin books
Photographed by: J. Wilds/Getty Images
Image Retrieved from: The Guardian
Essentially
Lady Chatterley's Lover
is a romance but to classify it solely as a romance would not do the work justice because, as the plot follows the 'love story' of Mellors and Connie, it provides a powerful commentary about human nature: about the conxsequences of negelecting each other's basic need to feel wanted and understood in favour of achieveing successs, about the consequences of the great focus society puts on achieveing success and acting successful, about the bitterness that arises from living in a relationship or marriage where there is no love and about how above all we need to feel loved as human beings to find purpose in our lives.
The Copy of the Book which I read
In my opinion D.H. Lawrence did an exquisite job of translating the very nature of what it means to be human in
Lady Chatterley's Lover
while still weaving the best sort of romance into the story. This is definetly a must read novel! I'd be really interested to hear some of your thoughts about "Lady Chatterley's Lover" and if you'd like to share them, or have any questions before/while reading comment below :)